Get Suppliers Info on Phone / SMS / Email
Quick Inquiry Form
Request A Callback
?
Submit your buy requirement and request a callback. Buyers helpdesk will help you connect with right suppliers.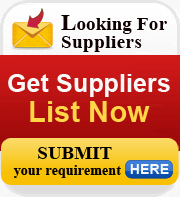 INDIAN SELLERS

(steel spring, mild steel spring, heavy duty steel spring)



(we are exporter, manufacturer and supplier of springs and spring mountings. also deals in mechanical)



(manufacturer, supplier and exporter of high load box springs, springs)



(incorporated in 1980, we have emerged as a prominent manufacturer and supplier of springs of the nat)



(connected clips, industrial clips, industrial clamps, connective clamps, clamps, universal clamps, m)



(gas spring)



(power press automation, pneumatic feeders, air feeder, auto feeder, wire feeder, gripper feeders, co)



(fostered with state-of-the-art infrastructural unit, we have emerged as the prestigious manufacturer)



(toggle clamps, swing clamps, clamping devices, magnetic equipments, fixture elements, die springs ba)



(offering coil springs, steel spring pins, spring pins, hot coil spring also deals in thrust washer, )



(refrigeration compressor parts, cylinder liner, pin bush, gear bush, oil pump parts, refrigeration c)



(deluxe seat springs, differential pins)



(we are trader of spring like ss spring, mm spring, spring washer, brass spring washer, spring steel )



(we are exporter and manufacturer of springs, automobile springs, compression springs, extension spri)



(over 40 years, we are into the domain of developing and fabricating a wide fleet of springs. owing t)


---
Springs Companies
%method>



Browse through online catalogs of leading Springs suppliers, Springs exporters and manufacturers with detailed company profiles, product description, product images and much more.

| | | | |
| --- | --- | --- | --- |
| | Accepts only Domestic Inquiries | | Accepts only Export Inquiries |