Get Suppliers Info on Phone / SMS / Email
Quick Inquiry Form
Request A Callback
?
Submit your buy requirement and request a callback. Buyers helpdesk will help you connect with right suppliers.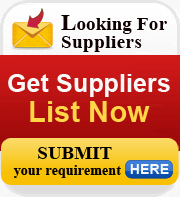 INDIAN SELLERS

(founded in the year 1982, we are an eminent manufacturer, supplier and exporter of dairy products. w)



(we are known as a dependable manufacturer, exporter and importer of an impressive assortment of dair)



(we are supplier and exporter of dairy whitener, instant dairy mix, instant masala dairy whitener, ma)



(ball, cone, duets, gadbut, ice candies, small cup, sundaes, family pack ice cream, milk ice-cream ba)



(manufacturer and supplier of milk products, milk, pure milk, raw milk, curd, cheese curd, paneer, cr)



(our company manufacturer, supplier & exporter of dairy whitner low sugar, dairy whiteners products, )



(pulav rice, parmal rice, sharbati rice, tarawadi rice, regular rice, brown rice, red rice, pulses, a)



(information organizers, notes organizer , info hanger)



(owing to our years of knowledge in this domain, we have been able to export, trade and supply a broa)



(we are exporter, manufacturer and supplier of soya milk, soya milk & tofu unit 200 lph, soya milk bo)



(fresh carrots, green beans, vegetables, fresh vegetables, , green vegetables, onions, white onion, s)



(committed to provide best quality products to our customers, we are involved in manufacturing, expor)



(a well known manufacturer, exporter, and supplier offers quality and nutritive dairy products line b)



(mango panna squash, mango panna drink, mango panna, mango squash, mango fruit squash, mango jam, lit)



(with firm commitment to quality, we are manufacturing, trading and exporting a comprehensive range o)


---
Dairy Products Companies
%method>


Browse through online catalogs of leading Dairy Products suppliers, Dairy Products exporters and manufacturers with detailed company profiles, product description, product images and much more.

| | | | |
| --- | --- | --- | --- |
| | Accepts only Domestic Inquiries | | Accepts only Export Inquiries |