Get Suppliers Info on Phone / SMS / Email
Quick Inquiry Form
Request A Callback
?
Submit your buy requirement and request a callback. Buyers helpdesk will help you connect with right suppliers.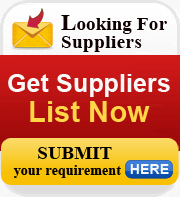 INDIAN SELLERS

(mercapto benzo thiazole, liquid bromine, n butyl bromide, hydrobromic acid, sec butyl bromide, bromi)



(manufacturer, exporter, supplier and traders of pharmaceutical ingredients, c h gluconate 20%, chlor)



(we are the leading trader, supplier, exporter and importer of chemical supplies. we also dealing in )



(our company is involved in rendering an array of enzymatic preparations, monocalcium phosphate, pre )



(trader and supplier of chemical supplies like di-ethanolamine, chemical, morpholine, ammonium chlori)



(we are a reputed importer and suppliers of quick-drying indicating liquids, speciality industrial ch)



(sodium meta silicate anhydrous, sodium metasilicate 5h2o powder, sodium metasilicate anhydrous powde)



(sanganeri hand block print)



(we are manufacturing, supplying and exporting copper chloride, copper chloride anhydrous, copper chl)



(we are offer chemical supplies like alfacalcidol, chemical, calcitriol, chemical )



(we are manufacturer, supplier, exporter and trader boric acid, acetic acid, sulphuric acid, slurry a)



(wire drawing chemicals, wire drawing lubricants, wire drawing soaps, wet wire drawing chemicals, wet)



(we are the manufacturer, trader and supplier of chemicals, foil binder powder, binder powder, craft )



(fexofenadine hcl usp, tramadol hydrochloride ep, n-propylacetate, metformin hci usp, omeprazole powd)



(ferrous fumarate usp, dried ferrous sulphate usp)


---
Chemical Supplies Companies
%method>





Browse through online catalogs of leading Chemical Supplies suppliers, Chemical Supplies exporters and manufacturers with detailed company profiles, product description, product images and much more.

| | | | |
| --- | --- | --- | --- |
| | Accepts only Domestic Inquiries | | Accepts only Export Inquiries |