Get Suppliers Info on Phone / SMS / Email
Quick Inquiry Form
Request A Callback
?
Submit your buy requirement and request a callback. Buyers helpdesk will help you connect with right suppliers.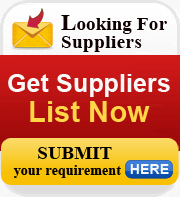 INDIAN SELLERS

(acetic acid hcl, isopropyl alcohol hydrochloride, methyl iso butyl ketone hydrochloride, methanolic )



(ferro vanadium, ferro tungsten, ferro titanium, ferro silicon, ferro manganese, silico manganese, fe)



(we are offering as a manufacturer, supplier and trader of chlorine granules powder, chlorine dioxide)



(we are engaged manufacturing, supplier & exporter of industrial cleaning chemicals, domestic cleanin)



(industrial acid, potassium bi fluoride, aluminium fluoride, magnesium fluoride, sodium fluoborate, a)



(leading manufacturer, exporter & supplier of carbon black, chemical and more.)



(manufacturer, supplier, trader and exporter of yellow dextrin, white dextrin textile grade, white de)



(supplier and trader of chemical supplies like titanium dioxide, rutile pigment titanium dioxide, mul)



(general purpose resin, orthophthalate base isophthalate base, pta resin, marble grade resin, quartz )



(soil conditioners, specialty nutrients, inorganic chemicals, crop protection fertilizer, bio nutriti)



(we are providing a wide range of cassia powder, centella asiatica, citalopram hydrobromide, clomipra)



(manufacturing and supplying range of cellulose powder, micro crystalline cellulose powder, sodium ca)



(butyl acetate, ethyl acetate, chemical)



(we are leading manufacture and supplier of of chemical supplies, fine chemicals, aromatic chemicals,)



(magnesium sulphate, epsom salt, mgso47h2o and many more chemical can be supplied as we are the promi)


---
Chemical Supplies Companies
%method>





Browse through online catalogs of leading Chemical Supplies suppliers, Chemical Supplies exporters and manufacturers with detailed company profiles, product description, product images and much more.

| | | | |
| --- | --- | --- | --- |
| | Accepts only Domestic Inquiries | | Accepts only Export Inquiries |