Get Suppliers Info on Phone / SMS / Email
Quick Inquiry Form
Request A Callback
?
Submit your buy requirement and request a callback. Buyer helpdesk will help you connect with right suppliers.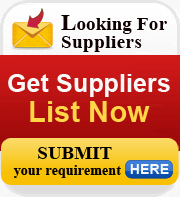 INDIAN SELLERS

(bio pesticide, bio insecticide, bio fungicide, bio miticide, humic acid, plant growth promoter, larv)



(liquor ammonia, ammonia solution, aqueous ammonia, ammonia water, ammonium hydroxide)



(sterile cleaning agent, chemicals)



( we are a leading manufacturer, exporter and supplier of chemical storage tank. we are also dealing )



(ferric chloride hexahydrate, hydrated ferric chloride, ferric chloride lumps, ferric chloride, ferri)



(manufacturers of acid slurry, producers of acid slurry, producers of labsa, detergents raw material )



(we are the manufacturer, supplier and exporter of industrial chemicals, degreasing chemicals, descal)



(aluminum sulphate grade, non ferric aluminium, non ferric aluminium sulphate, non ferric alum crysta)



(natural essential oils, spices oils, perfumery oils, aromatic chemicals, aromatherapy oils, carrier )



(we are manufacturer, exporter and supplier of textile process chemicals, textile printing binders, p)



(we are the exporter , manufacturer and supplier in chemical supplies, benzal konium chloride, benzal)



(colloidal silica 30%, colloidal silica, investment casting)



(hydrated calcium silicate)



(leading importer of calcium carbonate, acc, pcc, activated calcium carbonate, precipitated calcium c)



(we are the leading exporter importer and trader of chemical supplies . we also dealing in carbon bla)


---
Chemical Supplies Companies
%method>





Browse through online catalogs of leading Chemical Supplies suppliers, Chemical Supplies exporters and manufacturers with detailed company profiles, product description, product images and much more.

| | | | |
| --- | --- | --- | --- |
| | Accepts only Domestic Inquiries | | Accepts only Export Inquiries |